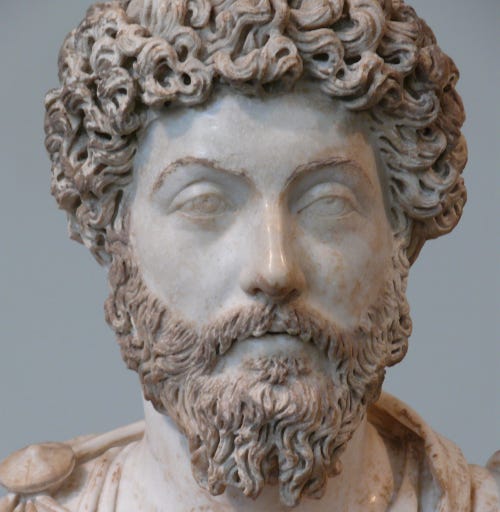 Jan 28 • 9M
Marcus Aurelius on Opinions #170
A History of Philosophy in Quotes
This episode is for paid subscribers
Every Friday, we discuss Stoic living, philosophies of happiness, the future of mankind, philosophical issues in the news and in daily life, famous philosophers and their ideas, and how to live a more calm and thoughtful life following the insights of the best minds that humanity has produced over the centuries. A premium version of this podcast comes out on Saturdays. Go to https://dailyphilosophy.substack.com to subscribe! Find more articles from us on https://daily-philosophy.com.
Dear friends of Daily Philosophy,
last year I asked for your votes on what we should be talking about this year. Many of you voted for a short history of philosophy through its famous quotes. And this, right here, is the first instalment of this new series. But don't worry; I will still mix this series up with other posts to keep things interesting.
Over this year, we will be going over some of the best-known quotes from famous thinkers. As opposed to popular "philosophy quotes" collections that you can find all over the Internet, here I will give you not only the precise location of the quote (so that you can look it up yourself), but also an explanation in a few hundred words. Short enough to read quickly, but with sufficient context and interpretation, so that you can really understand what the quote originally was about and where it fits into the history of thought.
In our premium newsletter, which you can find on Substack, we have been discussing the past and the future of mankind in very broad terms.
Tomorrow, we're going to talk about whether there could have existed another technological civilisation on Earth in the millions of years before us. If this sounds interesting, please upgrade your subscription for the price of a coffee a month! This not only allows you to support Daily Philosophy, but it also gives you access to exclusive content, a printable version of these articles, free ebooks, and much more.
As I had promised earlier, premium subscribers will get a printable copy of the articles of the past month in a magazine format! I'm happy to announce that the first issue is now available, and, because it's the first, I'm making it available to all subscribers. Get yours here (for free):
https://dl.bookfunnel.com/35y179fgcw
If you are not yet a subscriber (free or premium) then, by downloading the magazine, you will be automatically subscribed to the free edition. If already are a subscriber, please enter the email address you used to subscribe here in order to download the magazine. You can choose one of: epub, mobi (Kindle) or PDF (printable, A4) formats.
If you only want the printable PDF, you can also directly get it here:
Finally, you can take Daily Philosophy to the bathtub without being in danger of killing your phone! :) Enjoy, and please tell me what you think of it. Is it a good idea? Is it useful to you? — Thanks!
To ease us into the new format, let me begin with a quote that will already sound somewhat familiar to you. Later on, we will look into many different philosophers and times, from Heraclitus to Hegel and from Confucius to Carnap; so keep reading!
Marcus Aurelius: Meditations
It is in our power to have no opinion about a thing, and not to be disturbed in our soul; for things themselves have no natural power to form our judgements. (Marcus Aurelius, Meditations, Book 6)
Marcus Aelius Aurelius Verus Caesar (121-180 AD) is still one of the most well-known and generally well-regarded emperors of Rome. Read more about him here:
Marcus Aurelius was not only an emperor, but also a philosopher. In a difficult time for Rome and for himself, he turned to philosophy to find strength and guidance. While away from Rome, on military expeditions to the barbarian lands in Central Europe, he kept a diary of his thoughts. This later became known as "Meditations." But the original title is much more modest: "Notes to Myself," or "Things that Concern Myself."
This episode is for paid subscribers